I run cooking classes for up to 5 people in my home in East Ivanhoe. Please be aware that there is a flight of stairs to reach my house, so that if you have difficulty in climbing stairs this location may not be suitable for you.  Upon arrival I make all my guests a barista-style coffee (or tea if preferred) served with some home-made treats so that we can get a chance to meet one-another. Snacks are available during the classes and depending on the class, we may sit to sample the food that has been made.
COST: Classes are priced from between $125-$150 pp with a duration of approximately 3-4 hours. Each person will have their own work station (unless specified).  Classes are hands on, and each participant will be given a recipe booklet to take home, and in most cases will bring home some of the food that has been made during the class.
The classes listed are a small selection of courses available.  I can arrange customised classes to suit individual needs and requirement.
Please note that group classes will not run unless there are at least 3 participants in which case a new class date will be set. A full 72 hours notice will be required for any cancellations, and a credit will be applied for a future class.
Private Classes
I have had increasing demand for private one-on-one classes. These bespoke classes can be arranged on request and start at $350 for a 3-hour class.
How do I book?
Classes will run once/week and are usually held 9:30am -12:30pm Mon-Saturday . Because I run classes on request, it is best to contact me to arrange a class at least 2-3 weeks ahead of time. Alternatively you can book currently listed classes found below. Full payment must be made upon booking.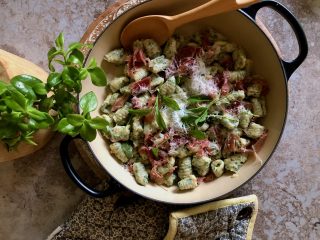 Gnocchi Class
Traditional potato gnocchi served with a Napoli sauce, and gnudi (ricotta gnocchi) served with pancetta, pine nuts and Tuscan kale (or other seasonal greens). Participants will take home some potato gnocchi and we will sample the gnudi during the class. $130 pp
Purchase Voucher
Italian pastry class
Baked ricotta tart, crostata with seasonal fruit and jam tarts. $150 pp- 4 people max per class. Each participant will take home a baked ricotta tart each plus some of the other goodies prepared.
Purchase Voucher
Pasta Class
I will teach you how to make pasta from scratch. This will include simple tagliatelle as well as filled pastas such as ravioli and tortellini. The latter will be served with a simple butter and sage sauce and we will sit down to sample. Each participant will take home some pasta prepared during the class. $135 pp
Purchase Voucher
Essential Italian
Focaccia bread made from scratch, Risotto with porcini mushrooms & button mushrooms, scallopine al vino bianco with capers. Participants will be taking home focaccia bread and we will sit down to enjoy the risotto and scallopine.Each participant will bring home a focaccia bread. $135 pp
Purchase Voucher
Finger food class
Need some inspiration for your pre-dinner nibbles or cocktail party? This class will show you how to make some favourites such as chicken and vegetable parcels, home-made mini quiches & salmon and mascarpone blinis. You will get to take home samples of what you make in class. $140 pp
Purchase Voucher
Hand-shaped Pasta Class
In this class, no specific equipment is required. You will learn how to make 4 different types of hand-shaped pasta from scratch. We will be making two different types of sauces during the class and will sit down to sample some of the goods made in class. Each participant will get to take home the pasta they made in class. $130 pp (Gluten free available at an extra cost of $5 pp)
Purchase Voucher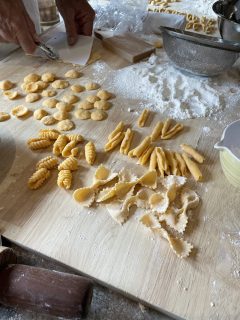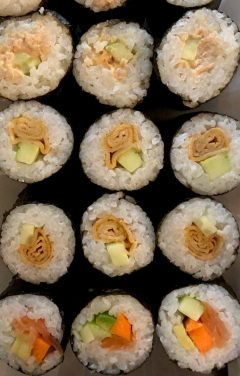 Sushi class
Learn how to make authentic sushi from scratch. In this class you will be shown how to make four different fillings: prawn, avocado & mayonnaise; tuna mayonnaise & cucumber; salmon, carrot, cucumber & avocado; tamagoyaki & cucumber. You will learn how to make perfectly rolled sushi and taught tricks on how to perfect this art. Each participant will be making their own sushi & take home what was made in the class, as well as sampling sushi during the class. $140 pp
Purchase Voucher
Lasagna class
Learn how to make lasagna from scratch. In this class we make pasta, ragu and béchamel from scratch I will demonstrate how to assemble the perfect lasagna with 7-8 layers. Each participant will take home a tray of lasagna. $150 pp
Purchase Voucher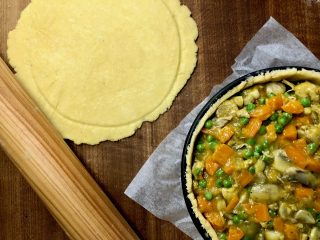 Pie and savoury pastry class
In this class you will learn the art of making perfect savoury shortcrust pastry. We will be making the filling for 2 different pies- a meat & veg/curried chicken & veg. Each participant will make their own pastry and pie of choice (20cm deep pie) to take home, and be taught how to use the savoury pastry for other applications. $150 pp
Purchase Voucher
Brodo & Vegetable class
Brodo (or stock) is an essential ingredient in much Italian cooking. I will be teaching you the art of brodo-making. Italians don't steam their vegetables but have various ways of preparing them to enhance the flavours and I will be using seasonal vegetables to demonstrate this. Each participant will take home a sample of the brodo and vegetables. $135 pp
Purchase Voucher
Fast & Simple
Simple cream of vegetable soup, pork fillet medallions with white wine, sage & mushrooms and a quick to prepare dessert (fruit crumble). Participants will be sampling and taking home some of the food prepared during class. $130 pp
Purchase Voucher